Memorial Garden & Columbarium
The Memorial Garden & Columbarium provide a final resting place for loved ones as well as a quiet place to gather and honor their memories. Located just to the north of the church sanctuary, there are five kiosks for cremains and an additional remembrance wall for those resting elsewhere. Below is information on the establishment of the garden and how to reserve spaces.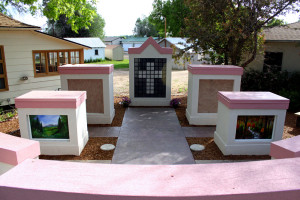 For a more detailed description of the garden, contact information, and pricing, please see the following document: Memorial Garden Overview
If you are interested in reserving a space, please note the policies and maps of available spaces before filling out an application.
Remembrance Wall Available Spaces
To learn about the history of creating this meaningful space, see: Memorial Garden History