The Memorial Garden & Columbarium to the north of the sanctuary remembers our past members and loved ones. For more information on the history and reserving a space in the garden, please click here.
Making a memorial gift to Timnath Presbyterian Church is a wonderful way to honor loved ones and provide a lasting tribute to the important part that they have played in the life of our church. The 'Memory Tree' mounted in the Narthex displays the names of individuals who have been remembered by our church through memorial gift funds. The tree itself is in memory of Emma Reck.
The following are some of the gifts over the years that have enriched our space and blessed our ministry:
The automatic opener on the east door, in memory of the Greg Rudolph family and Wilbur and Dora Jeffers.
Two outdoor benches located in the shade north of the sanctuary, in memory of Kristie Larson.
The antique chancel furniture was repaired, refinished, and re-upholstered in memory of Travis Myers and Anton Ladanyi.
Additional folding chairs for the Fellowship Hall, in memory of Pearl Moosdorf.
Additional hymnals for the sanctuary, in memory of Nina Haldeman.
New rose bushes and other landscaping, in memory of Ben Preston.
Library lighting, in memory of Ralph Hansen.
The entryway improvements, including railings featuring two mosaic medallions, were largely made possible by funds contributed in memory of John Rae and of Barney and Zadie Booth.
The new sidewalk, making the entrance handicap accessible, is imprinted with 'Cross Pattée,' was crafted by and given as a gift from the Ritter family.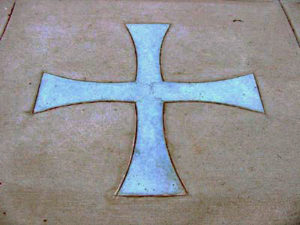 Two energy-efficient doors were installed to replace the yellow pine doors that had opened into the sanctuary, in memory of Martha Williams.